Our New York Broken Bone and Bone Fracture Lawyers Can Help When You Get Hurt in an Accident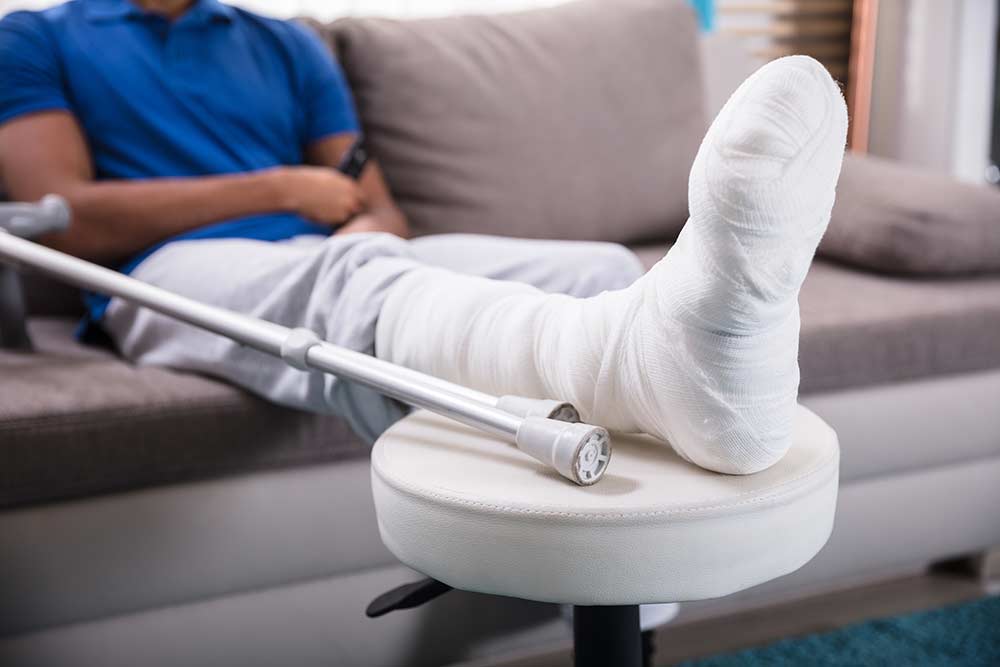 At Levine and Wiss, PLLC, our New York personal injury lawyers can help you collect fair compensation when negligence causes you to suffer broken or fractured bones.
Our lawyers know that broken bones and fractured bones are some of the most common and most serious injuries that people suffer in car accidents, slip, and fall accidents, and workplace accidents. Millions of individuals across America suffer breaks and fractures every year. Many of these injuries result from negligence.
Some Broken Bones and Bone Fractures Cause Serious Injuries Requiring Extensive Treatment
Sometimes broken or fractured bones heal well over time. Other times, they require prompt and substantial medical care like surgery.
Your recovery after such injuries might involve multiple surgeries or long-term physical therapy. Medical treatment can be expensive, especially if your broken bones require long-term treatments. If your injuries prevent you from working, it might become impossible to keep up with the medical costs associated with your recovery.
If negligence caused your accident and injuries, you might be eligible to collect compensation. At Levine and Wiss, we have experience filing claims to obtain damages for people in Brooklyn, Queens, Nassau, the Bronx, and Suffolk when they get hurt in accidents. Call Levine and Wiss at 888-GOT-HURT to find out how our New York personal injury lawyers can help you collect the maximum amount damages allowed by law.
What Types of Accidents Cause Broken and Fractured Bones in New York?
Broken bones are some of the most common injuries that children and adults suffer. They often occur when people are playing sports, riding their bikes, skiing or engaging in other recreational activities.
Negligence is often the cause of the accidents that result in bone breaks and fractures. When negligence is involved, the party who caused the injuries might be held legally responsible to pay damages to the victim.
Some accidents that cause bones to break include:
Car accidents
Motorcycle accidents
Truck accidents
Slip and fall accidents on icy sidewalks
Slip and fall accidents in parking lots
Workplace accidents
Construction accidents
Trip and fall accidents on stairways
Slip and fall accidents in stores
Bicycle accidents
Sports accidents
Nursing home accidents
And many other acts of negligence
When one of these accidents occurs and causes broken bones, fractured bones, or any other serious injury, you might be able to file a claim to collect compensation. You might have a premises liability claim, a car accident claim, or another type of negligence claim against one or more responsible parties.
Find out about your legal rights to file a claim for compensation after you suffer injuries in an accident. Call our lawyers at Levine and Wiss today.
There are Different Types of Breaks and Fractures
Did you know that there are different types and degrees of breaks and fractures? These injuries fall into various categories depending on their severity and the time it can take to recover. Considerations include the force that caused the injury, the condition of the victim, and whether a break is "clean" or not.
Broken bones generally fall into one of these categories:
Comminuted fracture – in this type of break, the bone shatters into three pieces or more
Oblique fracture – in this break, the bone breaks in an angular pattern
Transverse fracture – when a bone break appears in a horizontal line, it is transverse.
Stable fracture – in a stable fracture, the ends of each part of the bone line up fairly well and are only slightly out of place.
Open compound fracture – this type of break includes an open wound caused by either the bone itself breaking or the force that caused the bone to break. This type of fracture carries with it a risk of a bone infection.
These types of injuries can affect nearly every part of the body. We have experience handling injury cases involving some of the following types of breaks:
Broken ribs in motor vehicle accidents
Fractured pelvis in car accidents
Broken legs in motorcycle accidents
Fractured hips from slipping on an icy sidewalk
Broken wrists from trip and fall accidents
Fractured ankles from bicycle accidents
Broken noses from fall accidents
Broken arms from workplace accidents
Broken necks from construction accidents
Fractured skulls from bicycle accidents or car accidents
Broken bone injuries might be common, but they can cause serious pain, disability, and discomfort. Some never heal properly and cause lingering problems that can last a lifetime.
Our Lawyers Can Help You Collect the Maximum Compensation for Your Broken Bone Injuries.
If you have been in an accident that resulted in one or more broken bones, it may have been caused by negligence. You might have the legal right to pursue compensation for your injuries.
Our skilled and experienced negligence lawyers can help ensure you receive the full value of your injuries-an amount that reflects all of the financial, emotional, and physical losses you have experienced.
Compensation can include the cost of treatments such as doctor's visits, hospital stays, medications, physical therapy, and medical devices. Other types of compensation to which you might be entitled can include lost wages, lost future income, and money for your pain and suffering.
Call Levine and Wiss if You Suffer Broken Bones in an Accident
There are time limits to file negligence claims in New York. We must hear the facts of your case before we can determine how much time you have left. Call Levine and Wiss at 888-GOT-HURT or 888-468-4878 today to find out if you are entitled to collect damages for your injuries.
We represent clients in Brooklyn, Queens, the Bronx, Nassau, and Suffolk when accidents cause broken bone injuries.
If you were hurt in a car accident, bicycle accident, slip and fall accident, or other accident, call our lawyers now at 888-GOT-HURT. We will gladly schedule a free evaluation of your injury claim.