Injured in a Bus Accident in New York? Protect Your Legal Rights and Seek Maximum Compensation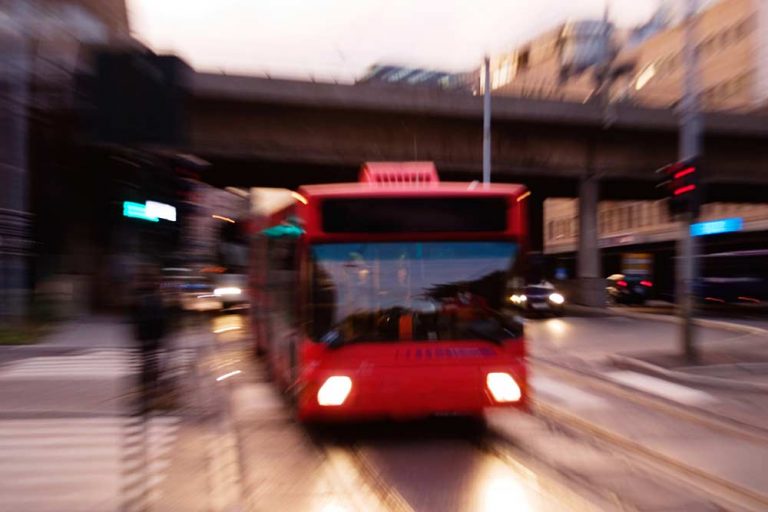 At Levine and Wiss, PLLC, our bus accident lawyers represent people in Brooklyn, Queens, the Bronx, Nassau, and Suffolk when they are hurt in bus accidents. We help pedestrians, bus riders, car drivers, and their passengers when negligence results in bus accidents and injuries.
Accidents involving buses can be complex. This is in part due to the rules and regulations that govern transportation industries like trucking and bussing. When bus owners and operators fail to adhere to one or more of the regulations and accidents occur, they might be legally responsible for paying damages to those injured. Buses operated by municipalities introduce additional complexities and may sharply limit your time to file a claim.
It is important for you to have lawyers who are experienced and skilled at navigating bus accident cases. The accident attorneys at Levine and Wiss have what it takes to ensure you collect the compensation you deserve when you get hurt in a bus accident. We can investigate your case, find out who was negligent, and seek all available legal remedies.
Our Lawyers Understand How to Prove Negligence in Bus Accident Cases
Because of special regulations governing transportation, having lawyers who understand the standards that bus companies and drivers must follow can be critical to determining how negligence caused your injuries.
Negligence occurs when someone with a duty or obligation acts in a way that falls below the required standard of care and causes harm to another.
Some examples of how negligence can contribute to a bus accident and subsequent injuries include:
A bus operator driving without any or with insufficient credentials
A bus operator driving without the required training
A bus driver operating the bus while distracted, drunk, speeding, or in violation of other traffic laws
A bus operator driving or acting without regard to bus-specific rules and regulations
Inadequate or non-existent bus inspection or maintenance
Defective bus parts
Driving with a suspended license
Negligent hiring by a bus company
Negligent supervision by a transportation company
Any one of these situations can lead to an accident. A distracted city bus driver may run up the curb and injure a pedestrian on the sidewalk in Brooklyn. A school bus with defective brakes might not stop at a red light, injuring a bike rider in Queens or the Bronx.
A bus company in Suffolk or Nassau County might hire an unlicensed driver who causes a wrong-way collision on the parkway. In each of these scenarios, negligence might have caused accidents and injuries.
Injuries from Bus Accidents Can Be Catastrophic
Much like injuries from truck accidents, injuries from bus accidents tend to be catastrophic. This is in part because of the sheer size of buses. When pedestrians or cyclists are hit by buses, they might become pinned underneath or against another object. Even a slow-moving bus can severely injure an unprotected person.
Buses carry a number of passengers, often children. Many people on buses don't wear seatbelts. In any accident involving a bus, the chance that bus riders will suffer severe injuries is significant.
Some common bus accident injuries can include:
Broken or fractured bones
Amputation
Lacerations
Paraplegia
Quadriplegia
Disfigurement
Burns
Facial injuries
Traumatic Brain Injuries
Spinal cord injuries
Head injuries
Like all injuries from accidents, injuries from accidents with buses can require varying degrees of medical attention, and care. Surgeries, pain medication, physical therapy, stitches, hospital stays, and rehabilitation are not uncommon.
Some of these injuries might heal fairly quickly. Others, like paraplegia, quadriplegia, and head injuries, can drastically change the course of one's life and that of the victim's entire family.
Our Lawyers Can Investigate Your Claim to Determine Negligence
After a bus accident, you may need extensive time to recover. The physical and emotional shock after suffering injuries can make it difficult for you to focus on anything but your health. Our attorneys can investigate the cause of the bus accident while you focus on your recovery.
We can secure information from other sources, such as medical reports, accident reports, and bus company reports, and dig deep into the details of precisely what happened to cause your injuries.
We can review police reports, interview witnesses, and use our experts and resources to re-create the events of the accident.
Our lawyers can also determine if anyone violated traffic laws, bus safety regulations, or other rules and whether doing so contributed to the accident. We also have medical experts who can analyze your medical records and fully understand the extent of your injuries and the suffering they can cause.
We Have Experience Collecting Compensation in New York For People Injured in Bus Accidents
Our personal injury lawyers at Levine and Wiss take all accidents seriously, and bus accidents are no exceptions. Our goal is to secure the maximum amount of damages allowed by law when negligence causes accidents and injuries.
Treating injuries costs money. When those injuries are the result of someone's negligence, injured people might be able to collect damages from the person responsible. Money alone won't fully heal the injuries, but it can go a long way toward making a recovery a bit easier for the injured and the family.
Compensation for injuries caused by accidents involving buses might include
Current medical expenses
Future medical expenses
Lost wages
Lost future wages or earning capacity
Pain and suffering
Property damage
Bus accidents can cause more than just physical injuries. There can be devastating financial and emotional injuries as well. The burden of being injured in an accident can make life very challenging. With medical bills piling up and income reduced, trying to make ends meet and stay out of debt can become overwhelming, if not impossible.
By hiring the right personal injury lawyer after you get hurt in a bus accident, you are taking an important step toward receiving a fair amount of compensation from the negligent party. Insurance companies know you are under pressure and might try to get you to settle for less than you deserve. Don't succumb to the pressure. Call Levine and Wiss to ensure you get the compensation your injuries warrant and the maximum compensation allowed by law.
Call Our Bus Accident Lawyers Today for a Free Case Evaluation.
If you got hurt in a bus accident in Brooklyn, Queens, the Bronx, Suffolk or Nassau County, call Levine and Wiss today at 888-GOT-HURT or 888-468-4878.
There are time limits to file bus accident claims, and we want you to protect your legal rights.
Schedule a free consultation with our experienced bus accident lawyers before time runs out.