The Dog Bite Lawyers at Levine and Wiss PLLC, are Assisting Clients on Long Island and in New York City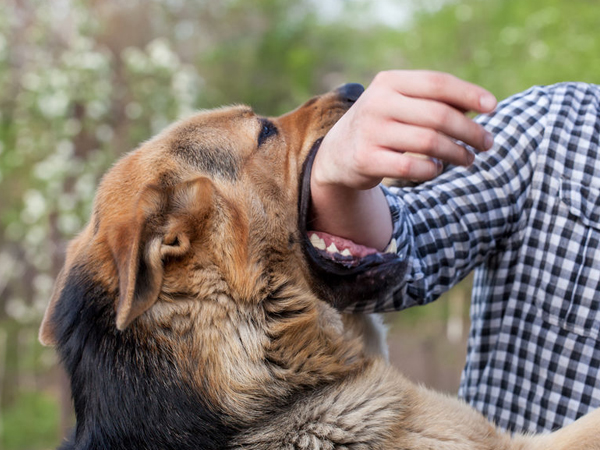 There are many proud dog owners in the New York City area, including Long Island. We see them all the time with their animals, walking through the neighborhoods, playing in the parks, and romping in backyards. However, when dog bites happen, you need a strong law firm capable of representing you and maximizing your recovery for your injuries.
Dog Owners Need to be Responsible for Their Pets
The majority of these dog owners are responsible. They clean up after their pets, keep them on leashes, and socialize their dogs. However, even a responsible pet owner may be unable to curb the urges of an animal with vicious propensities.
When someone gets hurt because a dog owner violates the law, can't control his animal, or refuses to take responsibility for their dog's actions, our lawyers can help hold that pet's owner accountable.
At Levine and Wiss, our dog bite attorneys have extensive experience helping the victims of dog bites pursue justice and the maximum compensation the laws allow for their injuries.
Why You Need Our Dog Bite Attorneys After You Get Injured By a Dog in New York
Suffering injuries from a dog bite or other type of animal attack is traumatizing. Your physical injuries, combined with the emotional distress, can make it hard for you to think clearly in the aftermath of a dog attack.
Our lawyers can help you build your dog bite case while you recover from your injuries. We have a team of investigators who know what questions to ask and how to find the answers needed to build a strong case and prove damages. We can get the full story behind your injury while you focus on healing.
For example,
Who owns the dog who attacked you?
Do they have an insurance policy?
Did the dog have vicious tendencies?
Did the dog previously bite anyone?
How bad are your injuries?
What kind of medical treatment do you require?
Was the dog on a leash?
Does the owner have a license for the dog?
Will you have physical scars?
Are you emotionally traumatized or suffering anxiety after the dog attack?
Was there any warning that the dog was dangerous?
The answers to these questions are important for building a strong dog bite or animal attack case. Our Long Island dog bite lawyers at Levine and Wiss have the resources to find out what happened and will work hard to secure the maximum compensation the laws allow.
Our Lawyers Help Dog Bite Victims Collect Damages in New York
In New York, civil dog bite laws provide different ways to collect damages when a dog injures you. Some considerations:
Is the dog dangerous?
If a "dangerous dog" bites you or injures you, the owner is liable to pay for medical costs related to your injury. A "dangerous dog" is one that "without justification" attacks and injures or kills a person or behaves in a manner which a reasonable person would believe poses a serious and unjustified imminent threat of severe physical injury or death.
What is the "One Bite Rule?"
For damages other than medical costs, New York implements the "one bite rule." This means that if the victim can establish the dog owner knew or should have known the dog was vicious, he or she can recover additional monetary damages. If the dog bit someone previously (one bite), the owner should know that it has dangerous propensities.
Our lawyers understand how these rules apply to dog bite and other animal attack cases. We have the resources and experience to determine if you have a strong dog bite claim and how to prove that claim. Our goal is to help you obtain all monetary damages to which you are entitled.
Dog Bites on Long Island Result in Severe Injuries
As lawyers who handle dog bite cases in Amityville, Brooklyn, Valley Stream, and West Hempstead, we have seen the wide range of injuries that can result. Injuries from large and small dogs can be quite severe and cause pain and scarring.
Some typical dog bite injuries include:
Nerve damage
Tissue damage
Scarring
Broken bones
Puncture wounds
Lacerations
Facial injuries
Rabies
Head injuries
Infections
Rabies
Anxiety
Emotional trauma
These injuries can require medical treatment, including surgeries, skin grafts, stitches, physical and psychological therapies, reconstruction, and medication. These treatments are costly and bills can pile-up quickly.
Our dog bite lawyers at Levine and Wiss can help ensure you collect compensation that reflects the true value of your injuries.
Statute of Limitations
All personal injury cases have time limits. If you miss deadlines, you forfeit your legal rights to collect compensation from the party who caused your injuries.
We do not know how much time you have left to file a dog bite claim. We won't know until we hear the facts of your case. Don't waste time. Call Levine and Wiss today at 888-GOT-HURT to protect your legal right to obtain damages for your dog bite injuries.
Contact Levine and Wiss, Long Island Dog Bite Lawyers
Any dog can bite. Any dog can attack. Big or small. Trained or not. Some of our favorite dog breeds can turn from friendly to vicious in an instant.
Were you bit by a feisty terrier? Did a pit bull attack your child? Did a Rottweiler bite you? Did a great Dane knock you to the ground?
If a dog bit or attacked you and you suffered injuries, don't forfeit your right to obtain compensation. You might be entitled to money for your medical expenses and more.
Our Dog Bite Attorneys Can Help You and Your Family
Our Nassau County dog bite lawyers want to ensure you collect the amount of damages your injuries warrant. We are dedicated to helping our clients receive the maximum compensation to which you are entitled by law.
At Levine and Wiss, our attorneys have 100 years of combined experience securing substantial verdicts and settlements for our clients. From 2009-2020, we have been featured in Verdict Search's Top New York Verdicts.
Call Levine and Wiss, Long Island dog bite lawyers, today at 888-GOT-HURT. You can also fill out the contact form to schedule your free initial case evaluation.
Our representation is offered on a contingent fee basis. We only collect attorney's fees if we secure compensation for you.