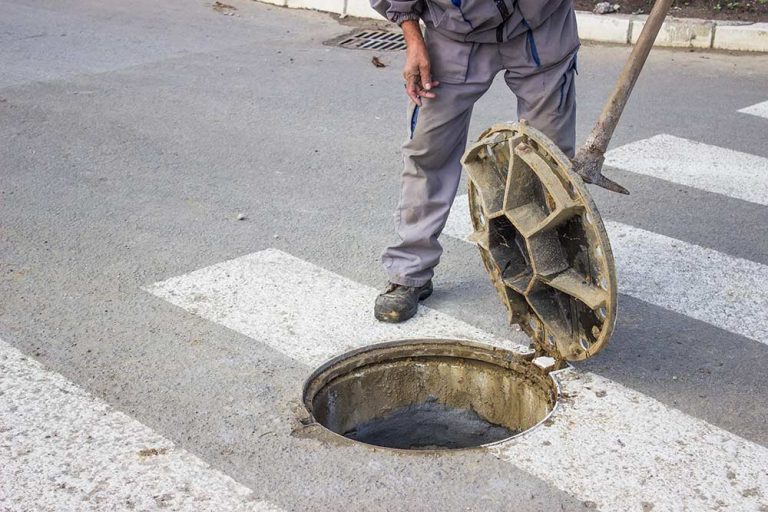 Man Falls Into Broken Manhole in Smithtown, Long Island
Justin Carey fell into a manhole on Route 111 in Smithtown after getting out of his car.
Carey stepped away from his car after parking north of the Route 347 intersection and plunged into the manhole, which was capped by a cover that had been split down the middle.
The 49-year-old special education teacher stepped on the manhole cover, and his left leg plunged into the hole. His right leg remained outside the manhole, causing a strained Achilles tendon and a bruised knee.
A witness to the accident, Jim Murry of Setauket, saw that Carey almost disappeared into the hole. Carey managed to climb out of the manhole but appeared to be in substantial pain, according to Murry. Carey limped towards his car to grab a traffic cone so he could warn other motorists and pedestrians of the dangerous situation.
Carey declined medical services at the scene instead of driving himself to St. Catherine of Sienna Medical Center. After several x-rays on his ankle, hip, and knees, including a visit to an orthopedic doctor, Carey has been prescribed a cane to help him recover from his injuries.
Although medical insurance will be paying for most of his treatments, he still expects to lose approximately $2,000 in insurance co-payments and lost wages and income.
Carey reached out to the Department of Transportation seeking help with his expenses. They told him the Department would only pay for property damage from the incident he described. The Department of Transportation, the agency said, is not responsible for his medical expenses or lost income that resulted from his fall into the manhole.
Who Might Be Liable For Personal Injuries Caused by Open Manholes?
The answer to this depends on a variety of factors and circumstances that are particular to each case. In some places, the city or other municipality might take responsibility for the injuries caused by a similar accident. Was the city doing work on the manhole? Did the city know it was dangerous? Did the city hire a negligent company to fix the manhole?
All of these factors can be crucial in determining whether the municipality is liable.
If a non-governmental party caused a dangerous situation, that party might be legally responsible for paying for the injuries that result from their negligence.
For example, if a maintenance crew performed work on the manhole and forgot to cover it, the maintenance company might have to pay damages to someone who gets hurt falling into the manhole.
If a construction company knew the manhole cover was broken and did not place warning signs or cones around it, the company might be liable for injuries that result from the failure to warn.
Both of these situations demonstrate some negligence and, if proven, could result in significant damages for the injured party.
Can You Collect Damages For Your Injuries?
When negligence causes accidents and injuries, the injured party may be able to collect compensation. Negligence, in its simplest terms, occurs when someone fails to perform his or her legal obligation, and that failure causes another person's injury.
There are generally four elements that must be present to demonstrate negligence in a lawsuit:
There must be a legal obligation or duty.
There must be a breach of that legal obligation.
The breach must be the cause of the injury of another.
There must be injury or some harm.
Using the previous example, construction and maintenance companies have legal duties to make sure that they exercise reasonable standards of safety. This duty likely includes covering the manholes they are working on and providing adequate warnings to the public about surrounding dangers that might exist.
The failure to cover the manhole properly, as well as the failure to provide cones or other warning signals without contrary evidence, would likely indicate the existence of negligence. Once negligence is established, the victim has to prove that the negligence was the cause of his injuries.
Some Questions to Consider About Your Accident and Injuries
If you have been injured in an accident, ask yourself and your personal injury lawyers some questions:
Did someone owe a duty of care? Did that person act reasonably? Would someone else in the same situation have acted differently?
Did someone breach the duty? Did someone intentionally act or fail to act in a way the law required?
Was a breach of duty the actual and proximate cause of the injuries?
How bad are the injuries? What are the actual losses?
Contact Our Long Island Personal Injury Lawyers Today!
Call our Suffolk County and Nassau County personal injury lawyers at Levine and Wiss, PLLC, today. Our personal injury lawyers can determine if you have a cause of action for negligence against a municipality or another party when you get injured in an accident.
Call us today at 888-GOT-HURT or 888-468-4878 today.
Sources: