Our Bike Accident Lawyers Help Clients File Claims and Collect Damages After Being Injured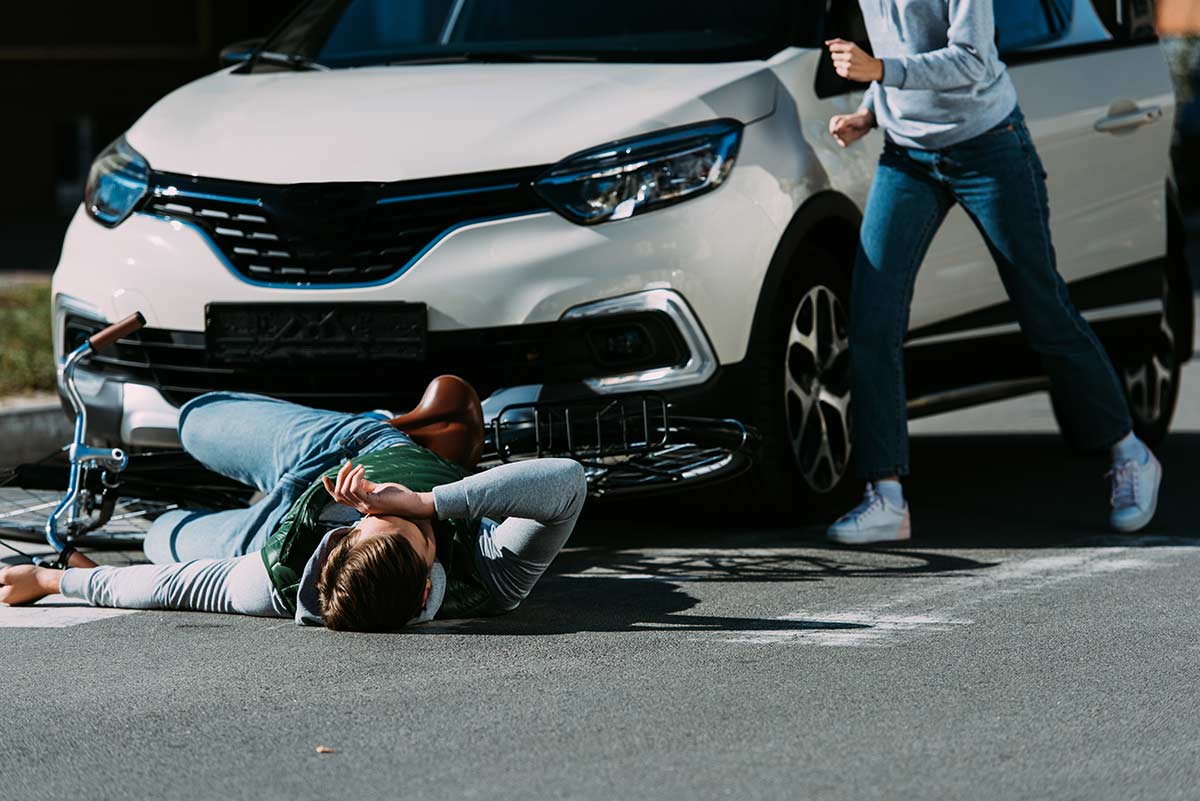 Our bike accident lawyers at Levine and Wiss, PLLC, have experience handling all types of bicycle injury claims. When you are injured in a bike accident with another cyclist, cars, pedestrians, or even solo, you might be able to collect compensation for your injuries.
When you are recovering from injuries incurred in a bike accident, you need someone doing the work necessary to file your claim. Chances are, your injuries are severe, and you have some physical and emotional obstacles to overcome. Our bicycle accident lawyers can investigate the details of your crash, identify the parties who are responsible, and seek the compensation you may deserve.
Bicycles Are Useful But Many Bike Riders Are At Risk Of Serious Injury
Since bicycles became widely available, they have served many purposes for a variety of people. For children and adults, bikes are an important part of life. We often see young kids riding their bikes to school or friend's houses or simply riding around the neighborhood. Adults might ride bicycles to exercise, explore, or utilize a form of earth-friendly transportation. In New York, bicycles are an integral part of the economy, with thousands of bicycle riders zipping around making deliveries.
Unfortunately, along with the wonderful recreational, commuting, and other opportunities bikes make available, riding bicycles can also pose risks. Even with cities and states becoming more "bike-friendly," accidents happen. Bikes often must share the road with trucks, cars, and buses. When a motor vehicle hits a cyclist, the injuries are often catastrophic.
Our personal injury lawyers handle bike accident cases for clients in New York City, Brooklyn, Bronx, Queens, Nassau, and Suffolk. If you have been hurt in a bike accident, call 888-GOT-HURT.
Common New York Bicycle Accident Injuries Can Result in Substantial Compensation
Do you remember falling off your bike as a child or watching your own child fall? Just tipping over on a bike can result in scrapes, bruises, and a trip to the ER for stitches or a broken bone.
If a bicycle is in an accident with a motor vehicle, the injuries are often life-changing and catastrophic. A bicycle rider is never a match for a car or truck. Think about it- what protection does a bicycle rider have other than a helmet? None.
The serious injuries that often occur in bicycle accidents can result in piles of medical expenses, lost income, and severe emotional trauma. Some common bike accident injuries include:
Head Injuries from Bicycle Accidents
Concussions and Traumatic Brain Injuries (TBI) frequently result from bicycle accidents. These closed head injuries are not always obvious right away. When they do manifest, the effects of these injuries can last forever, causing dizziness, headaches, memory loss, and cognitive impairment.
Broken Bones from Bicycle Accidents
Broken bones can result from being hit by a motor vehicle or being thrown from your bike after impact. Bike accidents can result in compound fractures, shattered and broken bones. Broken bones might require surgery, physical therapy and can cause permanent disabilities.
Spinal Cord Injuries from Bicycle Accidents
Spinal cord injuries from bike accidents are some of the worst ones our lawyers at Levine and Wiss see. A damaged or severed spinal cord can result in paralysis that is either temporary or permanent. Spinal cord injuries can also involve the back and neck and affect movement and motor skills. Many spinal cord injuries require multiple surgeries and can lead to a lifetime of pain and suffering.
Internal Organ Injuries from Bicycle Accidents
Bike riders often suffer serious internal injuries in accidents with cars, trucks, and buses. The sheer size of the motor vehicles alone means that when they hit a bike rider, the force can cause internal bleeding, bruising, or even bursting of internal organs.
Loss of Limbs from Bicycle Accidents
Because bicycle riders have no protection from the road or the vehicles that hit them, it is not uncommon for riders to lose limbs during or after accidents. For example, a bike rider's arm might get crushed under the weight of a car and become immediately severed or need to be amputated for medical reasons.
Lacerations, Wounds, and Disfigurement from Bicycle Accidents
Even falling off your bike can cause cuts and bruises. If you get hit by a car or truck while riding your bike, those cuts and bruises might need immediate and significant medical attention. You might need stitches, surgery, or skin grafts to repair the damage. You might experience permanent disfigurement.
Post-Traumatic Stress Disorder (PTSD) from Bicycle Accidents
PTSD is a very serious mental health condition that occurs after experiencing a traumatic event, such as a bicycle accident. The symptoms of PTSD can include severe anxiety, flashbacks, nightmares, depression, and other feelings and behaviors that often interfere with daily living.
Death from Bicycle Accidents
Accidents often claim the life of the bicycle rider while the drivers and passengers in the motor vehicles can be left unharmed, even if they are responsible for causing the accident.
Our Lawyers Collect Maximum Compensation for People Injured in Bicycle Accidents in Nassau County, Brooklyn, the Bronx and Across New York
If you are in an accident while riding your bicycle, the cost of your treatment can add up quickly. Emergency treatment, surgeries, rehabilitation, hospital stays, follow up visits, and home care might be necessary. These injuries and their costs can affect you and your family, especially if you are the breadwinner and can't return to work.
Having the right bike accident lawyers, like the ones at Levine and Wiss, can help take some of the pressure off. Because of our work with insurance companies, we know they try to pressure accident victims into settling for less than they deserve. We don't want this to happen to you or your family, and we work tirelessly on behalf of our clients to make sure it doesn't.
Our lawyers can help you navigate the process of investigating your bike accident case and filing your claim. We want you to focus on getting better while we focus on securing the fair and just compensation your injuries warrant. You might be able to collect damages for your medical costs, lost income, lost future income, and pain and suffering. At Levine and Wiss, we have the skill, experience, and resources to ensure you obtain the maximum compensation allowed by law.
Liability for Your Bicycle Accident: Who is Responsible for Compensating You for Your Injuries?
If someone's negligence or recklessness caused your bike accident, that party could be responsible for compensating you for your resulting injuries.
Often, the negligent party is the driver of the car, truck, or bus that hit you. How can driver negligence cause bike accidents? If your bike accident was caused by one of these acts, the driver might be held responsible and owe you compensation:
Driving while distracted
A motor vehicle sideswiped a bike rider
Driving while drunk or under the influence of a drug
Driving while fatigued
A driver opened a car door while you were riding
A driver turned in front of a bicycle rider
A motor vehicle rear-ends a bike rider
Speeding
Ignoring traffic signs or rules of the road
In the above situations, if the driver was negligent and caused the accident, the driver might be liable to pay for the injuries.
Under certain circumstances, parties other than drivers might be liable for bike accidents. If a bike is defectively designed or has defective parts, the manufacturers might be responsible for the accident and injuries.
There might be a property owner or construction company liable if something those parties did or did not do caused your accident. For example, if you hit construction equipment in the road that was not cleaned up properly or a pothole that had faulty repairs, you might be able to file a claim against the property owner, company, or even the municipality.
Having experienced bike accident lawyers, like the ones at Levine and Wiss, means that you can find all potentially liable parties and pursue all available legal claims.
If You Were Injured in a Bicycle Accident in New York City,
Brooklyn, Bronx, Queens, Nassau or Suffolk, Contact Levine and Wiss
If you were injured in a bicycle accident, call our personal injury lawyers at Levine and Wiss. We offer a risk-free, no-obligation consultation.
Call our bike accident lawyers serving Brooklyn, Bronx, Queens, Nassau, Suffolk, and New York City at 888-GOT-HURT to schedule your bicycle injury case evaluation.