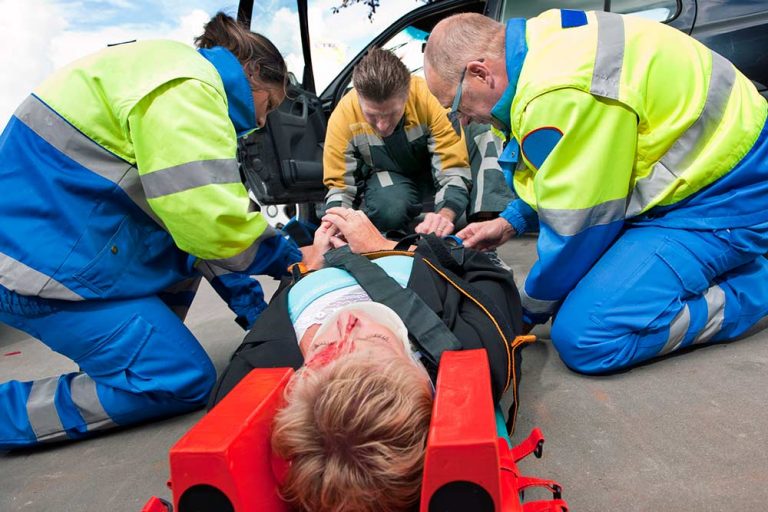 Police Crash in New York Causes Woman to Suffer Quadriplegia Injury
In April 2020, a woman and her friend were walking on the sidewalk on Main Street in Weston New York when a police SUV hit another car, a utility pole, and them. Both women were seriously injured. Chelsea Ellis was thrown between "30 and 50 feet" and has been hospitalized since the accident. She suffered a spinal cord injury that has left her in a quadriplegic state, unable to walk, use her arms, or breathe without assistance from machines.
Quadriplegia Injury Leads to Lawsuit Against City Police Department
The Ellis family filed a lawsuit against Police Officer Brandon Lowe, who was driving the SUV that struck Chelsea. The lawsuit also names as Defendants the City of Buffalo, the Buffalo Police Department, and the driver of the car that Officer Lowe hit before hitting her.
According to Spectrum Local News in Buffalo, the family claims that the police officer driving the car was "on the wrong side of the road, speeding, and may have not had his lights and sirens on." The other injured woman is also planning to sue the police department and city, although her injuries were less severe than Chelsea's.
If the Ellis family can prove that the police car driver and city were negligent or reckless, it might provide a much-needed relief from the financial burden of caring for a person with quadriplegia injuries. When negligence causes accidents that result in substantial injuries like paralysis, jury awards or settlements are often high because of the expenses associated with long-term care, rehabilitation, and medical treatment of victims.
Chelsea's attorney told The Buffalo News, "She will never walk again. She'll never use her arms again. She can be in a wheelchair." The attorney added that Chelsea cannot talk without the aid of a mouthpiece and a computer.
Quadriplegia Injury Caused By Negligence Can Result in Significant Compensation
Determining the value of injuries is not always easy. For catastrophic injuries, the losses, however, can be tremendous. When negligence or recklessness results in quadriplegia, paraplegia, or other devastating spinal cord or brain injuries, the injured victims might be entitled to collect damages for things such as:
Medical Treatment to Date And Estimated Future Medical Expenses
Medical expenses can include the cost of drugs, physical therapy, occupational therapy, speech therapy, emotional therapy, surgeries, at-home health care, rehabilitation services, medical devices like breathing machines, wheelchairs, lifts, and adaptations to the home.
Loss of Income
Income can include actual income lost because of the injuries. It can also include loss of future income or loss of earning capacity.
Pain and Suffering
Pain and suffering are related to pain experienced during the accident and the pain and suffering that you might continue to experience after.
Loss of Enjoyment
For victims of catastrophic injuries such as quadriplegia or paraplegia, the loss of enjoyment can be nearly total. Paralysis does prevent many people from enjoying ordinary daily pursuits of happiness like hobbies, exercise, or other favorite recreational activities.
Loss of Consortium
People tend to assume that loss of consortium damages are reserved for the spouse of someone injured in an accident. However, parents of a child who is catastrophically injured can seek to obtain damages for loss of consortium.
Chelsea's Experience and Career Are a Consideration in Calculating Damages
Chelsea is a former high school teacher. She taught new immigrants and resettled refugees. She left teaching for the real estate business, remaining committed to working with Buffalo's refugee community and helping them find new homes.
These are factors that should be considered in any compensation she receives.
It can be challenging to file a successful lawsuit against a municipality or government agency such as the police. But many cases involving quadriplegia settle, and the victims collect substantial compensation due to the catastrophic nature of the injuries.
Contact Our Quadriplegia Injury Lawyers at Levine and Wiss, PLLC.
If you are catastrophically injured in an accident, our lawyers at Levine and Wiss can help.
Call us at 888-GOT-HURT (888-468-4878) to schedule a free evaluation of your quadriplegia or paraplegia injury case.
Sources: