Slipping and Falling in a Long Island Supermarket: Is the Supermarket Liable for Injuries?
At Levine and Wiss, PLLC, our Long Island personal injury lawyers know that slipping and falling is a common occurrence. We help people file claims to collect compensation when they slip and fall in supermarkets. These claims fall under the legal umbrella of premises liability.
Has this happened to you? Maybe you were shopping in a Long Island grocery store when you slipped and fell on a puddle of water. Perhaps you were walking into a supermarket and tripped on an uneven floor mat. Often, when these things happen, you regain your composure and get on with your day. Sometimes, however, people in the same circumstances sustain serious injuries.
Injuries in supermarkets and grocery stores are quite common. Defects in floors, improper stacking of products, failure to address leaks and spills – all can lead to severe injuries in Long Island supermarkets.
If you have fallen and been injured in a Long Island supermarket, call Levine and Wiss to find out how we can help you pursue your legal remedies If the business' negligence caused your accident, we can determine the value of your claim and assist you in collecting the maximum compensation allowed by law.
Our Lawyers See a Variety of Injuries from Slip and Fall Accidents in Long Island Supermarkets
Some people think that slip and fall accidents aren't serious. This is not always true.
There are many severe injuries that can be attributed to accidents in supermarkets. Here are the most common injuries that stem from falling or slipping on supermarket floors:
Broken arm, wrist, or hand
Broken or fractured leg
Fractured hip
Fractured pelvis
Concussion
Herniated discs
Spinal cord injuries
Head injuries
Some injuries may require a few days off from work to heal, but others might require months of recovery. A fractured arm can take months to fuse. A spinal cord injury may require multiple surgeries. A broken kneecap may require a knee replacement. A head injury may require stitches, cause a concussion, a traumatic brain injury or necessitate weeks of bed rest. Many of these can lead to lifelong injuries, and you deserve compensation to get you through those injuries and related issues.
Additionally, these injuries often result in excessive medical bills as well as lost income. The financial stress after suffering injuries in a supermarket can be as bad as the physical pain.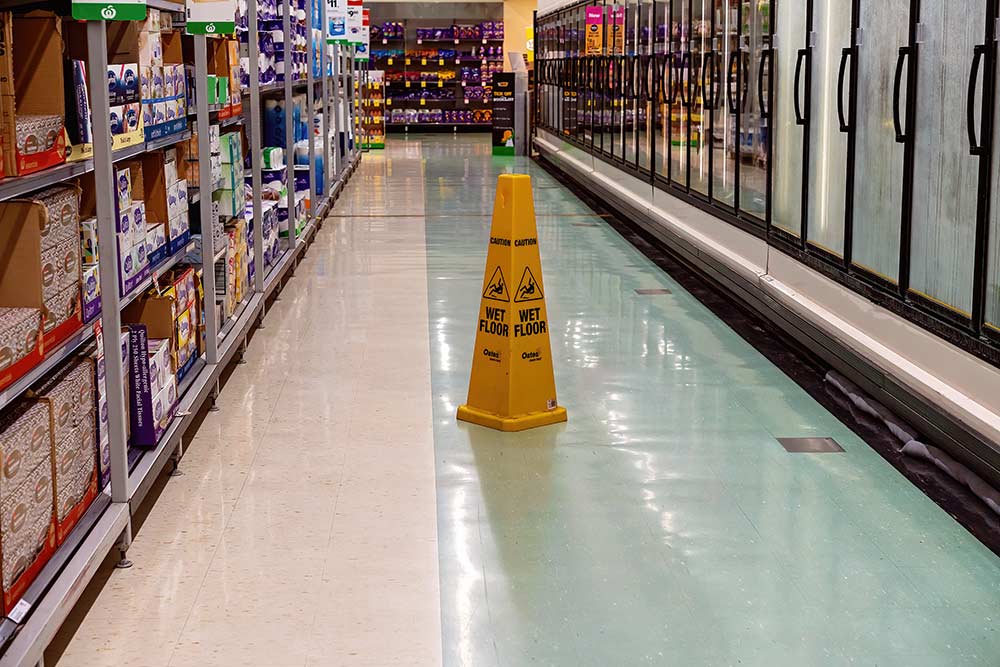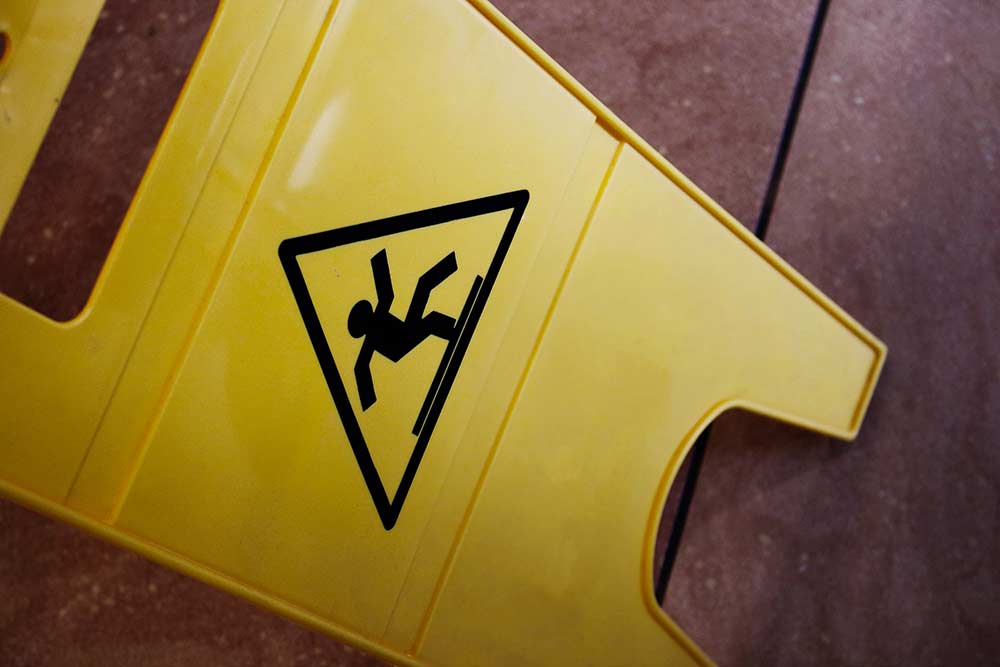 Who May Be Held Liable for Personal Injuries in a Supermarket?
Grocery stores, property owners, landlords, and tenants owe a duty of care to shoppers. They generally must act reasonably to keep the premises free from hazardous conditions.
In a supermarket injury case, the supermarket or property owner might be held liable for negligence if the accident was attributed to avoidable circumstances or a dangerous condition, such as the following:
Loose floor tiles
Damaged flooring
Damaged stairs or missing steps
Improper maintenance of the store premises
Poor lighting in the store
The uneven pavement outside the store
Defective shopping carts
Defective exit doors or entry doors leading to a shopper being injured or stuck in between them
Liquid or substance on the floor
A wet floor with no warning signs
If any of these situations, or others like them, caused your slip or fall in a supermarket, leading to injuries, you may be able to hold the supermarket liable.
What Damages Can You Collect After Sustaining Injuries in a Slip and Fall Accident in a Long Island Supermarket?
After sustaining injuries in a local supermarket, you might be entitled to collect significant monetary damages. Damages can cover lost wages if you were unable to work due to your injuries, the costs of medical treatment, and other expenses you have incurred because of the accident and your injuries. You might also be able to collect damages for your pain and suffering and the emotional effects of your injuries.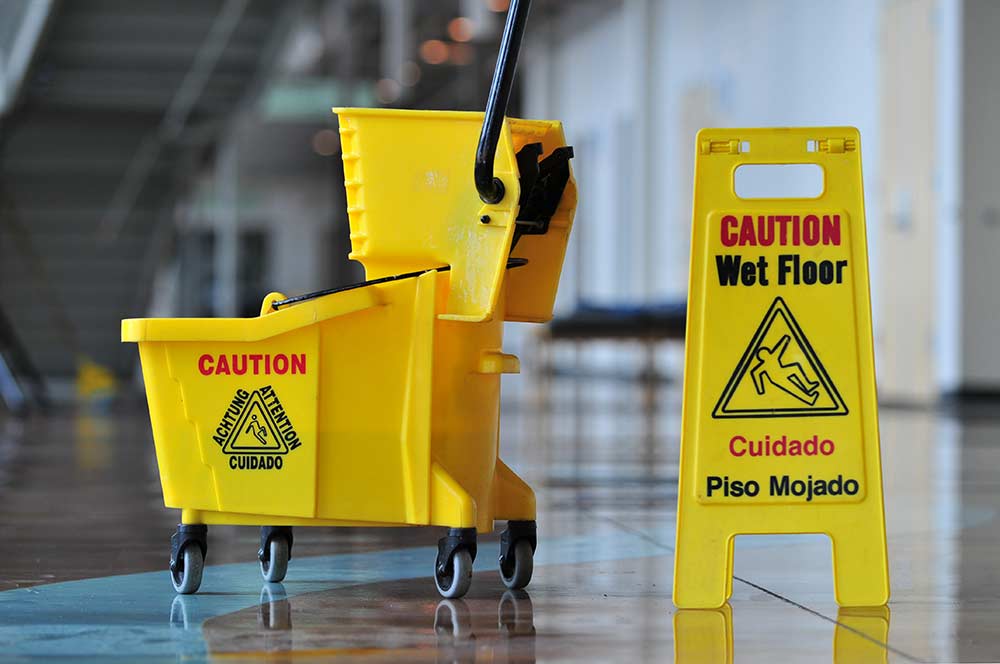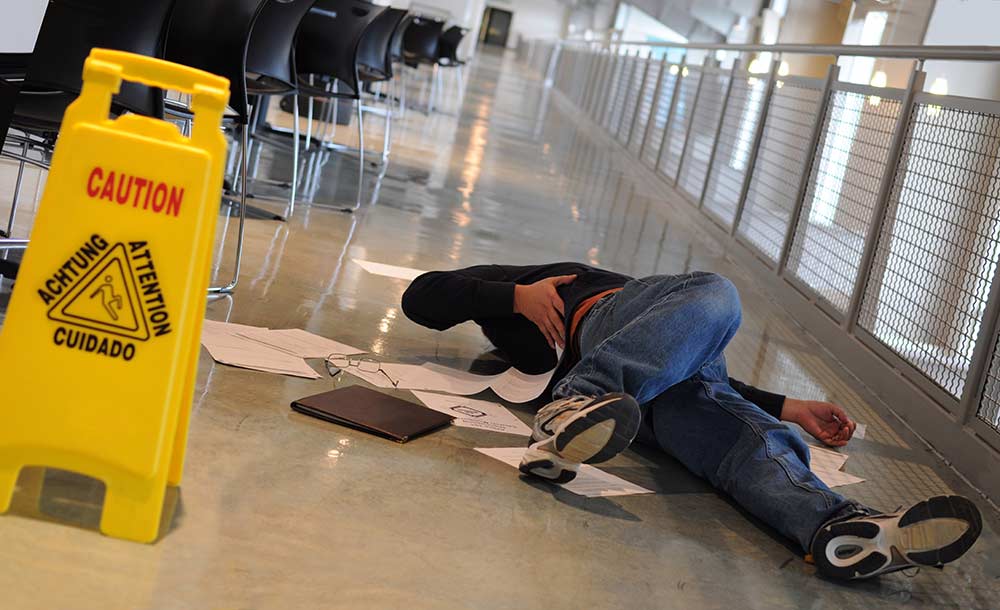 Protecting Your Legal Rights After Your Slip and Fall Accident
If you are injured in an accident in a Long Island supermarket, there are some things you can do to help ensure your legal rights are protected. Calling our personal injury lawyers at Levine and Wiss is one of them.
Some other things you can do to protect your rights include:
Making a record of what happened leading up to, during, and after your accident- including names of employees and witnesses.
Taking photos of the scene of your slip and fall
Trying to obtain any video of the incident that might be on store cameras or the cameras of nearby shoppers
Saving, copying, and organizing all medical records, reports, and receipts related to your injuries.
Saving Income statements or pay stubs
Recording any communications between you and the supermarket
Keeping all records of conversations with insurance companies
Call Levine and Wiss to Protect Your Legal Right to Compensation
If you have suffered a serious injury in a Long Island supermarket, call Levine and Wiss for help. Our lawyers have extensive experience handling supermarket slip and fall cases for clients across Long Island.
We can determine if negligence was a factor in your accident and who is responsible for paying for your injuries.
Call our Long Island supermarket slip and fall accident lawyers today at 888-GOT-HURT or 888-468-4878 to find out how we can help you collect the maximum compensation allowed by law.