Our Lawyers at Levine and Wiss, PLLC, Help Clients Collect Damages When New York Municipalities Cause Injuries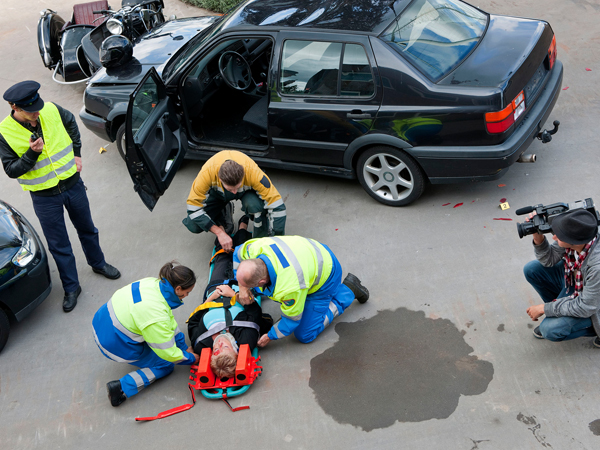 Whether you realize it or not, municipal governments exert much control over our daily lives. A municipality is, at its core, a self-governing local area.
New York State government is a complex combination of county, city, town, and village ruling bodies. It is likely that if you live anywhere in New York State you are subject to the laws and regulations of several municipalities.
When there is an accident involving something under municipal control and an injury occurs, holding a municipality liable can be challenging. It requires the representation of lawyers with specific experience pursuing claims against municipalities.
At Levine and Wiss, our municipal liability lawyers understand what it takes to succeed with a claim for damages when suing a New York municipality. We have more than 100 years of combined experience helping those who have suffered injuries to secure the compensation that they need and deserve.
Our experience includes having previously defended insurance companies and working for municipalities. That experience gives our firm an insider's edge when facing a municipality's insurer. We have strategies for success and will be well prepared to deal with whatever tactics an insurance company or municipality chooses to employ. Call Levine and Wiss today for a free evaluation of your personal injury claim against a New York municipality.
Municipalities Can be Negligent and Cause Injuries to New Yorkers
Negligence by municipalities can cause injuries to New Yorkers much in the same way negligence by any other entity can. When someone gets hurt because of something under the local government's control, the Municipality might be legally responsible for paying compensation.
What are some things that might be under the control of a Municipality that can cause injuries?
Waste disposal and vehicles
Construction vehicles
Sidewalk maintenance and safety
Public parks
Snowplows
Public buildings
Police
Local beaches
School property and vehicles
Municipal employees
When someone gets injured on these properties or an accident involves one of the factors above, you may be able to collect compensation from a municipality for their negligence.
Common Examples of Accidents for Which Municipalities Might Be Responsible
As stated above, when something under the control of a municipality causes an accident and injuries, it is possible there was negligence. If so, the Municipality might have to pay compensation to the party who was hurt.
Every case differs, but some common situations give rise to potential municipal liability for accidents. They include:
Trip-and-fall accidents on an uneven, cracked, or defective sidewalk
Faulty highway or road conditions, design or repairs
Accidents involving municipal vehicles such as garbage trucks, recycling trucks, construction/road work vehicles, police cars, or fire trucks
Accidents that occur in parks, government buildings, or on other public property
Slip and fall accidents on public sidewalks and pathways
Injuries caused by municipal workers in the course of their employment
Levine and Wiss Municipal Lawyers Seek Maximum Compensation for Your Injuries
When you get hurt on public property or are in an accident with a municipal vehicle, and someone was negligent, you might have a legal right to substantial compensation.
Picture this: You are walking down the sidewalk when a town snowplow rams into you, pinning you against a building and nearly burying you in snow. You suffer crushing injuries to your internal organs and can no longer work.
If the snowplow driver was negligent, you might be able to collect compensation from the town. If someone failed to inspect the plow and this violated town laws, you might be able to collect compensation from the town.
Compensation for your injuries in this or another situation can include the value of:
Medical expenses like surgery, physical therapy, drugs, and assistive devices
Lost wages
Lost future income
Pain and suffering
Proving negligence by a municipality is not easy, but with Levine and Wiss's help, resources and experience, you can be sure that your case is in good hands.
Our New York Municipal Liability Lawyers Can Help You Pursue Damages From The Right Municipality
Municipal law is different from "ordinary" law. There are critical deadlines and procedural requirements that you must meet to pursue a claim against a municipality. Hiring lawyers with municipal experience, like the ones at Levine and Wiss, can be critical to the outcome of your case.
For example, to pursue a claim against certain New York municipalities, you must file a Notice of Claim within 90 days of getting injured. Following that, you have an additional one year to commence a lawsuit to collect damages for your injury. Ninety days is not much time. You should speak to our lawyers immediately after becoming injured, so you don't forfeit your opportunity to collect compensation. Different municipalities or government entities have different time periods.
Our lawyers can also ensure that you pursue the correct municipal body. According to the New York Department of State, New York contains 62 counties, 62 cities, 932 towns, and more than 500 villages. These numbers mean that every citizen in New York is governed by more than one Municipality. And municipalities often sub-contract work. Who controls what? How do you know which Municipality is responsible for your accident and injuries?
Let Levine and Wiss to determine who caused your accident and might be responsible for paying for your injuries. Our experienced municipal lawyers can get to the root of your accident and determine who was negligent and how. Then we can focus on getting you the compensation you deserve.
Call Our New York Municipal Liability Lawyers for a Free Evaluation of Your Personal Injury Claim
To protect your legal rights and help secure the kind of compensation that your injury truly warrants, turn to the experienced personal injury lawyers at Levine and Wiss, PLLC. We are dedicated to helping our clients secure the maximum compensation. Call our offices today at 888-GOT-HURT (888-468-4878) to schedule a free evaluation of your municipal liability claim.