Our New York Personal Injury Lawyers Can Help if You Get Injured in a Trucking Accident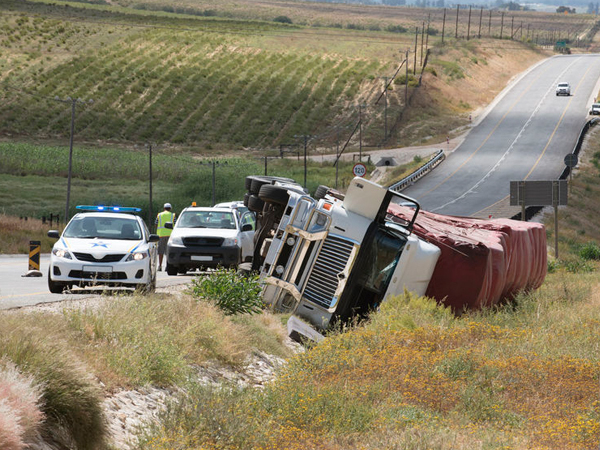 When you need tenacious, experienced lawyers who know their way around truck accident claims, look no further than Levine and Wiss, PLLC. We have the skill it takes to help accident victims obtain compensation and recover from the financial, physical, and emotional damage left after getting injured by a truck.
Truck accidents occur daily in New York, injuring thousands of innocent victims every year.
How many times have you heard about a jackknifed tractor-trailer causing a pileup on the Long Island Expressway? Or an 18-wheeler jammed under an overpass on the Northern State Parkway, resulting in a chain reaction of rear-end collisions?
These accidents cause more than traffic. They cause serious injuries to innocent people- passengers, drivers, and bystanders, who are no match for big trucks when they crash. The weight and size of trucks alone make them a danger to others. When you add to that a negligent truck driver or trucking company, the risk of serious harm increases dramatically.
If you are injured in an accident with a truck, call our personal injury lawyers at Levine and Wiss to schedule a free consultation. We can help you seek compensation for your injuries after a trucking accident on Long Islands.
Our Lawyers at Levine and Wiss Handle All Types of Truck Accident Claims
We know that even small truck accidents can result in big injuries and that all cases have unique circumstances. But because we handle so many cases involving truck accidents, we tend to find that they fall into one of several categories:
Jackknife accidents
Rollover accidents
Cargo-related accidents
Accidents involving defective parts
Side impact crashes
Undercarriage crashes
Tire blowout accidents
Brake failure accidents
Blindspot accidents
Head-on accidents
Rear-end accidents
Commercial trucking is a billion-dollar-a-year industry that employs millions of drivers. It should not be surprising that there are so many ways trucks are involved in dangerous accidents.
What Causes Some Truck Accidents in New York?
Trucking accidents are not usually "accidents." They are, instead, caused by negligence. When you get hurt by someone's negligence, you might be able to file a legal claim for monetary damages.
Negligence occurs when someone acts or fails to act in a way that violates the required standard of care. All drivers owe other drivers a duty to drive reasonably safely and follow the laws on the roads.
Commercial trucking is a heavily regulated industry. Hundreds of rules govern the certification of drivers, hours of drivers, safety, maintenance, inspections, weight limits, container restrictions, and more. There is ample room for negligence to occur. Sometimes, the violation of one or more trucking regulations can be evidence of negligence.
Other ways that negligence often causes trucking accidents in New York can include:
Driving while tired
Driving over the allowable time
Driving under the influence of prescription or other drugs
Driving without taking required rest stops
Speeding
Failing to inspect the truck and its parts
• Failing to secure cargo properly
Driving with heavy cargo
Failing to comply with maintenance rules
Failing to perform an adequate inspection
Failing to do a background check on a truck driver/employee
Negligently hiring a driver or other employee involved in the accident
Driving while distracted
Driving while drunk
Like many personal injury cases, trucking accidents caused by negligence can result in the filing of legal claims. Injured victims can seek compensation from the negligent party or parties that caused the accident and their injuries.
Whether you seek compensation through an insurance claim, settlement agreement, or lawsuit, Levine and Wiss can help you obtain a fair amount. When you want to recover damages that reflect the true value of your injuries, you want our personal injury lawyers on your side.
New York Trucking Accidents Can Result in Lifelong Injuries
Rarely, the driver of a passenger car walks away unharmed from an accident with a truck.
Consider the fact that most trucks weigh several thousands of pounds more than your average car. Some commercial trucks can weigh as much as 80,000 pounds.
Cars weigh an average of about 5,000 pounds, no real match for a large truck.
Physical injuries from truck accidents often include:
Severe burns
Broken bones
Broken ribs
Disfigurement
Amputation
Pelvic injuries
Thoracic injuries
Spinal cord injuries
Temporary paralysis
Permanent paralysis
Brain damage
Traumatic brain injuries
Death
Any of the above injuries can cause astronomical medical bills. Surgeries, physical therapy, medication, assistive devices, and long-term care might be required. The bills won't wait for you to get better. Your household expenses might also pile up, especially if the injured party was/is the primary breadwinner. Imagine being out of work for an indefinite period of time, trying to heal from a serious accident, wondering how you will keep your lights on. The anxiety and stress might inhibit your recovery.
At Levine and Wiss, our lawyers are here to help ease this stress and work hard on your behalf to obtain fair compensation for your injuries after a trucking accident. We have worked with insurance companies and know how to stand up to them when they try and pressure you to settle for less than you deserve. We have the resources, skill, and stamina to get you the maximum compensation allowed by law – compensation that can cover your skyrocketing medical expenses, lost income, pain and suffering, and emotional trauma.
Contact Our Trucking Accident Lawyers at Levine and Wiss To Protect Your Right to Collect Compensation
All personal injury claims have time limits. Call us today and let us know the facts of your truck accident case to determine how much time you have left to file.
Call Levine and Wiss at 888-GOT-HURT to schedule a free evaluation of your truck accident claim.
Find out if you are entitled to compensation for your injuries by speaking to our experienced New York personal injury lawyers today.